【 ディスクユニオン 新宿ロックレコードストア 】4F/5Fの2フロアで新品・中古あわせて"30,000枚"、オールジャンルを取り扱うディスクユニオン最大規模のレコード専門店。はじめてレコードを手にとるお客様からコレクターの皆様までアナログ・レコードの魅力を存分にお楽しみ頂けるお店です。専門店ならではの高額買取もお任せ下さい! TEL : 03-6380-0235 / e-mail : ds13@diskunion.co.jp
★UNCUT、RECORD COLLECTORの最新号がそれぞれ入荷!!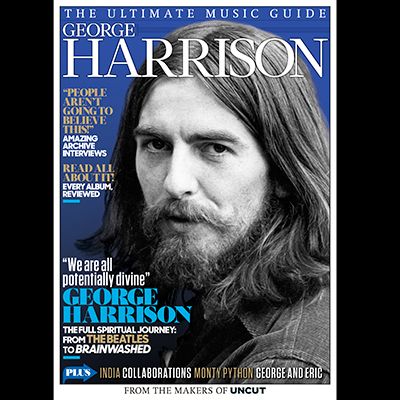 ●THE ULTIMATE MUSIC GUIDE - GEORGE HARRISON (FROM THE MAKERS OF UNCUT) / GEORGE HARRISON ジョージ・ハリスン 輸入 3,024円(税込) (UNCUT/2299990622874)
UNCUTが贈る究極ガイド・シリーズ!
THERE'S A MOMENT IN MARTIN SCORSESE'S DOCUMENTARY GEORGE HARRISON: LIVING IN THE MATERIAL WORLD WHERE HARRISON, IN ARCHIVE FOOTAGE, REFLECTS ON THE DISTANCE TRAVELLED IN HIS COMPREHENSIVE AND REMARKABLE CAREER. "PEOPLE SAY I'M THE BEATLE WHO CHANGED THE MOST. BUT REALLY THAT'S WHAT I SEE LIFE AS BEING ABOUT. YOU HAVE TO CHANGE."
CHANGE, IT SEEMS, HAS ALWAYS BEEN HARRISON'S MODUS OPERANDI. NOT SO MUCH 'THE QUIET ONE' AS 'THE RESTLESS ONE', HARRISON ALWAYS SEEMED TO BE LOOKING FOR THE NEXT THING. YOU CAN READ ABOUT MANY OF THOSE NEXT THINGS ? BEATLES, SOLO, WILBURYS AND MORE ? IN THE LATEST ADDITION TO THE UNCUT FAMILY.
WHEN I LAST TALKED TO ANYONE WHO KNEW GEORGE HARRISON, IT WAS ABOUT HOW HE PLAYED THE GUITAR. IN THE EARLY 1960S, BRIAN GRIFFITHS ("GRIFF") ALONG WITH HIS PALS JOHN GUSTAFSON ("GUS") AND JOHN HUTCHINSON ("HUTCH") WAS A MEMBER OF THE BIG THREE. FAVOURITES AT THE CAVERN, (WHERE THEY RECORDED THEIR DEBUT EP) AND IN HAMBURG, THE BAND KNEW THE BEATLES BEFORE THERE WAS MUCH SCREAMING.
GUS TOLD ME ABOUT HOW HE ONCE MET A SHEEPISH GEORGE IN LIVERPOOL, SHORTLY AFTER HIS PREMATURE RETURN FROM HAMBURG. GEORGE TOLD GUS THAT STUART SUTCLIFFE HAD RECENTLY LEFT THE BAND, AND IF HE WANTED TO HAVE A GO, THE BEATLES WERE LOOKING FOR A BASS PLAYER. GRIFF, MEANWHILE, REMEMBERED GEORGE AS SOMEONE EAGER TO LEARN.
AWARE OF THE SPIKIER NATURE OF HIS OWN TONE, HE ASKED THE OTHER GUITARIST FOR SOME ADVICE ON ACHIEVING A SLICKER AND MORE ACCOMPLISHED KIND OF SOUND. GRIFF REMEMBERED GEORGE AS A "VERY ENGLISH" GUITARIST AND ALSO HIS ENQUIRY: "HOW DO YOU MAKE THE NOTES FLOW...?"
WHEN YOU'RE INTRODUCING A MAGAZINE DEDICATED TO A MUSICIAN LIKE GEORGE HARRISON, IT'S A PRETTY HELPFUL CHOICE OF WORDS, ILLUMINATING ASPECTS OF SOME GEORGES WE THINK WE ALREADY KNOW. THERE'S GEORGE THE RECESSIVE BEATLE, HAPPY TO TRY AND SINK INTO THE SHADOW OF POPULAR MUSIC'S MOST POWERFUL SPOTLIGHT BY SMOOTHING OUT HIS SOUND. THERE'S GEORGE THE SEEKER AFTER SPIRITUAL ENLIGHTENMENT, LOOKING TO PASS EASEFULLY BUT MEANINGFULLY FROM ONE STATE TO THE NEXT.
REALLY, THOUGH, IT REVEALS MORE ABOUT GEORGE SIMPLY AS SELF-CRITICAL INDIVIDUAL, AN IMPORTANT PART OF THE MAN AND HIS MUSIC THAT YOU'LL FIND EMERGING CONSTANTLY THROUGHOUT THE CAREER COVERED IN DEPTH IN THIS NEW MAGAZINE. AS IMPORTANT AS WAS THE OUTPUT HE MADE WHILE ATTEMPTING TO TRANSCEND THE MATERIAL WORLD ? HIS ABIDING FRIENDSHIP WITH RAVI SHANKAR AND AFFINITY FOR THE MUSIC OF INDIA ? MUCH OF HIS MOST CHARACTERFUL WORK COMES FROM HIS ENGAGEMENT WITH AND INTERROGATION OF LIFE IN A LESS THAN IDEAL, IDENTIFIABLY TERRESTRIAL FORM.
IF APPLE WAS A POLITICAL VEHICLE FOR JOHN, A CRUCIBLE FOR NEW TALENT FOR PAUL AND A PLACE WITH GREEN CARPETS FOR RINGO, FOR GEORGE IT WAS A PLACE TO TAKE STOCK. "GETTING BACK" MIGHT BE A MCCARTNEY PHRASE, BUT IT'S A GEORGE SENTIMENT. AS LEERY AS HE MAY HAVE BEEN IN THE LIMELIGHT AND THE CONSEQUENCES OF BEING A WORLDWIDE CELEBRITY, HE KNEW AS MUCH AS ANYONE THAT PLAYING ROCK MUSIC AGAIN WOULD BE A POSSIBLE WAY DOWN FROM THE STUDIO-BASED EXPERIMENTS OF PEPPER. TO READ HIM TALKING ABOUT WORKING WITH JACKIE LOMAX, OR ELVIS, OR LITTLE RICHARD IS SOMEONE TELLING IT LIKE IT IS, EVEN IF NO-ONE WAS GIVING HIM THEIR FULL ATTENTION.
MUSICALLY, GEORGE WORE HIS HEART ON HIS SLEEVE. IT DIDN'T ALWAYS REAP HUGE REWARDS: "ONLY A NORTHERN SONG", HIS THINLY-VEILED GRIPE ABOUT SONGWRITING AND ITS ROYALTIES WAS SAID TO HAVE MADE GEORGE MARTIN SHUDDER. DARK HORSE, AS NICK HASTED RECOUNTS HERE, WAS A BAD TIME IN HIS LIFE SET ALMOST ARTLESSLY TO MUSIC. BUT THIS INABILITY TO CONCEAL HIS FEELINGS ALSO BROUGHT US THE COMPASSION BEHIND THE CONCERT FOR BANGLADESH, THE WIT OF "TAXMAN" EVEN THE ROCK 'N' ROLL REVIVALISM OF THE TRAVELING WILBURYS. GEORGE HAD MANY GUISES, BUT HIS ESSENTIAL NATURE ALWAYS REMAINED INTACT.
PERHAPS HE WAS AN ENGLISH GUITARIST. BUT GEORGE WAS ALSO AN ARTIST SCANNING ALL ROUND THE WORLD, AND THE WORLDS BEYOND.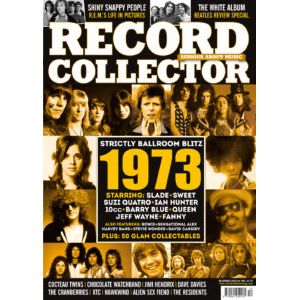 ●DECEMBER 2018 / 486 / RECORD COLLECTOR 輸入 1,458円(税込) (RECORD COLLECTOR/ 2299990622873)
1973 SPECIAL SLADE AND SWEET SPEAK, KEVIN GODLEY ON THE BRAINY ART-POP OF 10CC, ROXY MUSIC AND SPARKS, THE YEAR IN SINGLES AND SOUL/FUNK ALBUMS, AND 50 JUNKSTORE GLAM COLLECTABLES
THE COLLECTOR NEW YORK DJ AND MUSICIAN, ARP
BOB STANLEY APPRECIATING DAVID CASSIDY
IAN MCCANN MAC ON BLACK
DAVID QUANTICK THE TREND FOR ALBUM SEQUELS
LUKE HAINES IN SEARCH OF HAWKWIND
IAN HUNTER MOTT THE HOOPLE'S PERMA-SHADED MAINMAN DISCUSSES HIS 60-PLUS YEAR CAREER
R.E.M FETED ROCK PHOTOGRAPHER TOM SHEEHAN CHARTS THEIR IRRESISTIBLE ASCENT
CHOCOLATE WATCH BAND WE MEET THE CULT MID-60S PROTO-PUNKS
COCTEAU TWINS ROBIN GUTHRIE ON THE INFLUENTIAL NOISE-POP BAND'S HEYDAY
SLADE NOIZE FROM THE BLACKSTUFF
THE SWEET EVERYONE ATTACK!
1973 SOUL 1973 SOUL
--------------------
◆掲載品は全て通販OKです!
◆通販の詳細は
コチラ
◆TEL(共通) 03-6380-0235 Eメール:
ds13@diskunion.co.jp
最新情報
ディスクユニオン
新宿ロックレコードストア
住所:〒160-0022 東京都新宿区
新宿3-34-12下菊ビル4F/5F
TEL:03-6380-0235
e-mail : ds13@diskunion.co.jp
営業時間:平日・土曜 11:00~21:00 (日曜・祝 11:00~20:00)
ディスクユニオン
新宿ロックレコード買取センター
TEL:0120-980-509
(携帯電話からは 03-6380-0374)
営業時間:平日・土曜 11:00~21:00 (日曜・祝 11:00~20:00)
ディスクユニオンの中古レコード・CD通販
買取アップ・キャンペーン
ロック・プログレUK盤/US盤/各国盤中古レコードオンラインショップセール
ロック/プログレ廃盤アイテムリスト公開!!
新宿ロックレコードストア新品予約カレンダー 3/22(日)更新
全店のロック中古情報まとめブログはコチラ
最新記事
(03/26)
(06/30)
(12/31)
(06/30)
(06/25)
(05/31)
(04/05)